Origins of a diva: Grace Jones film delivers the naked truth
sento
In the public imagination, if you ignore the time she assaulted Russell Harty on his chat show, Grace Jones is an austere presence, a cyborg's impersonation of a disco diva; all digital cheekbones and robotic allure.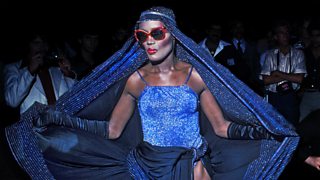 There have been several different iterations of the Jones persona over the years – supermodel, Warhol collaborator, Bond girl – but her career was defined by that period in the early 1980s when her music was produced by Island Records founder Chris Blackwell, and her image was designed by Jean-Paul Goude (who also fathered her child Paulo).
Jones's records framed an extraordinary collage of pop styles, weird songs, made weirder. Iggy Pop's Nightclubbing, Chrissie Hynde's Private Life, The Normal's Warm Leatherette; all of them became android soul music once Jones applied her stern, domineering vocals.
Where the real Grace Jones fitted in all of this has always been hard to say. Chic's Nile Rodgers – who produced the 1986 album Inside Story (and was inspired to write Le Freak when Jones forgot to include him on the guest list at Studio 54) has said that Jones's greatest creation was herself.
Even in Jones's 2015 autobiography, I'll Never Write My Memoirs, she refused to reveal her age, saying "I like to keep the mystery". (She is thought to be 69.) But in allowing Sophie Fiennes to film her over several years, the singer has at last allowed the mask to drop, albeit while wearing hats designed by Philip Treacy.
The Fiennes documentary, Grace Jones – Bloodlight and Bami, is an impressionistic, surreptitious affair. Jones is literally naked on a couple of occasions, though these aren't necessarily the points where her vulnerability is on display.
"For her, being naked is a form of strength," says Fiennes. "I remember having a conversation with her and she said: 'I don't feel frightened being naked, I don't feel vulnerable – I feel powerful.' I've heard other female performers say that too, because you put your nakedness out there. It's to do with the physical attitude of your body, how that vulnerability registers."
Grace Jones: Nightclubbing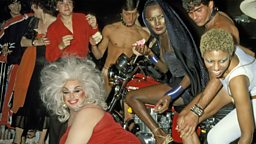 Jones with friends, including singer Divine (left), at her birthday celebration at Xenon Disco in New York, 1978 | Getty Images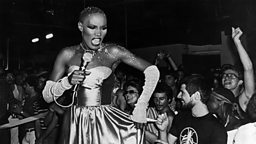 Performing in Studio 54, New York c. 1980 | Getty Images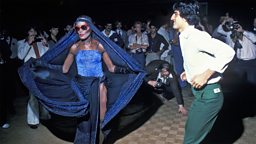 At Studio 54 in New York City, 1978 | Getty Images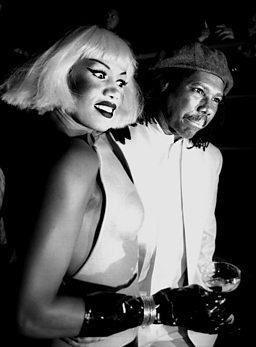 With Nile Rodgers at Palladium nightclub in New York to celebrate her birthday, 1992 | Getty Images
The film captures Jones in various contexts. In Paris, filming a television show, she is horrified to discover that the set design is a male fantasy in which she is a brothel madam. In Jamaica with her extended family she is relaxed, though painful memories of childhood beatings at the hands of her step-grandfather, Mas P, keep surfacing.
"It had a huge effect on her, being left in Jamaica at the mercy of Mas P," says Fiennes, "and I think when she did figure it out she got liberated from it. She has been doing this brilliant, cathartic working through in her stage persona, of putting that fear into the audience that she had felt as a child, by impersonating him, unconsciously.
It's an amazing thing. Her stage persona has developed since she realised that. If you look at A One Man Show (a 1982 long-form video made with Goude in 1982), there she's like Mas P a lot. She did break out of it, but it's an aspect of her."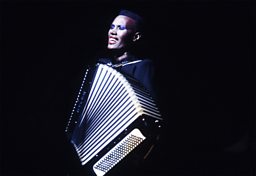 Grace Jones in A One Man Show, Beacon Theatre, New York, 1980 | Getty Images
Fiennes's film also includes some extraordinary live sequences, in which she gave the singer space to command the stage.
"She doesn't defer," says Fiennes. "She's not a procrastinator, she really lives in the present. That's what you see in her performance. She doesn't want to rehearse it, she loves to live that moment with the audience."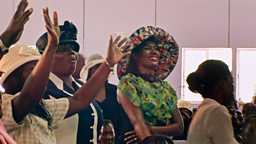 Grace Jones at church in Jamaica with her family. From the documentary Grace Jones – Bloodlight and Bami. The latter is Jamaican cassava flatbread, the stuff of everyday life; the former refers to the red 'record' light of the studio.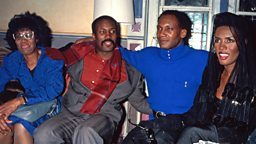 With her mother and brothers, 1991 | Getty Images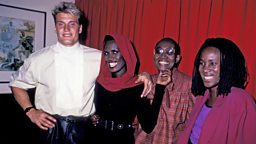 With Dolph Lundgren, her mother and sister in New York City, 1985 | Getty Images
With her brother Chris, New Year's Eve 1985, New York City | Getty Images
As revealing as it is, Fiennes's film is respectful of Jones's boundaries. It is more about impressions than facts, and is a properly collaborative work in which both director and subject are aware of the contract between them. "That was her decision," says Fiennes, 'to just be who she was, and enjoying all the masquerade and the performance that is the particular preserve of a woman.
"She's never shown herself publicly without make-up on before. When you see that, you see the shape of her eyebrow bone is completely plaintive. So when you paint the eyebrows on, you get that kind of Kabuki attitude, that expression. In that sense it is a kind of mask.
"I think there is a lot of strength in being properly vulnerable. That's what I enjoyed … I wouldn't say I was directing her, I would say I was trying to direct myself to capture her being, because she had made that decision, to be unguarded, un-performative on camera."
Though she doesn't hammer this point home in the film, Fiennes also suggests that there is a broader lesson to be drawn from Jones's work, which does so much to confront gender stereotypes. "We're all in various degrees of performance," says Fiennes. "Actually, we're all quite constrained. When we think about Harvey Weinstein, all these poor women have had to worry about being rude when they should have been furious.
Women are expected to say, 'Yes, OK,' and that's an imposition. The bottom line is: you might not be attractive if you're angry or if you're furious or hysterical. The idea of what's masculine or what's feminine – these are cultural constructions. We should all be freer."
Grace Jones – Bloodlight and Bami is at 23:30 on BBC Two, Saturday 22 June, and on BBC iPlayer.
A version of this article was originally published on the documentary's UK cinematic release in October 2017.
Grace Jones swimming in Jamaica | Still from the documentary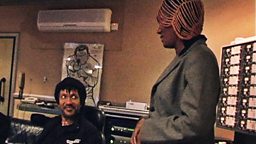 In the studio with Sly Dunbar, legendary drummer and half of rhythm section and production duo Sly and Robbie | Still from the documentary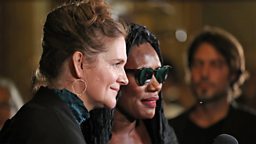 Director Sophie Fiennes and Jones at the documentary premiere, Toronto International Film Festival, September 2017 | Getty Images